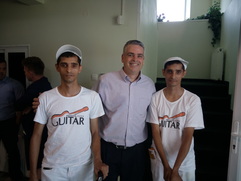 Thanks for stopping by and checking out our web page. My name is Gary Santino and I am the new pastor here at Faith Baptist Church. I am not new however to the ministry, I have spent the last 23 years ministering in the country of Romania. You can check out our web page at
www.santinoro.com
to learn a little more about us.
We believe God is going to do a great work here. We have a great core group of people, a wonderful debt free facility and a growing group of young believers. Our philosophy of ministry is two fold, please God and love people. We want people to become passionate follower of Jesus, not of religious tradition and we want to help people in our community by demonstrating the love of God through genuine concern and involvement in their lives.
We will be in the process of updating this web page, so stop by again soon, better yet come by and be a part of what God is going to do at Faith.
Gary Santino
​
---
Faith Baptist Church - 182 Broad Brook Road, Enfield CT Phone (860) 749-8888

Pleasing God - Helping People